Field Notes
Field Notes: Pitch Black, Dot-Graph or Ruled, 3 Pack
Regular price
Sale price
$11.50
Unit price
per
Sale
Sold out
3-PACK
PITCH BLACK
Dot-Graph or Ruled
3½" × 5½"
3 Staples
Dot-Graph or Ruled Paper
FN-21
PITCH BLACK 3-PACK
Pitch Black features French 100-lb "Blacktop" covers with "Stealth Gray" text. Inside is our 50-lb Finch Opaque Smooth text paper, with a light-gray dot-graph. It's bound with shiny black staples and features an all-new list of Practical Applications. And best of all, it's not a limited edition, we made plenty for everyone and we'll keep it in stock until black goes out of style. (Like that'll happen.)
Whatever they're calling the "new black," forget about it. Only black is black, and nothing's blacker than black, and black goes with everything. This book will look great in a tux or a greasy leather jacket. It can record performance notes atop a grand piano, or take note of f-stops rubber banded to a thrift-store camera.
ABOUT FIELD NOTES
EVERYTHING YOU NEED TO KNOW
Inspired by the vanishing sub-genre of agricultural memo books, ornate pocket ledgers, and the simple, unassuming beauty of a well-crafted grocery list, the Draplin Design Company of Portland and Coudal Partners, a Chicago creative firm, have created Field Notes Brand, a collection of smartly-designed, vintage-styled pocket notebooks, calendars, and various office accoutrements.
In 2006, Aaron Draplin, a designer and collector of American ephemera, decided to create an homage to the utilitarian pocket notebooks found in the first half of the 20th century at full-service gas stations, midwestern feed stores, and all points in between. (Lots more on the products that inspire us here.) He called the hundred or so books he'd printed, "Field Notes," and sent them out to friends, including Jim Coudal. The day that first book arrived in Chicago, Jim called Aaron. In less than a week, a company was born.
Beginning with packages of three graph-ruled booklets wrapped with a thick "kraft" brown cover, Field Notes has since printed dozens of variations and introduced wildly popular limited editions, exploring new colors, papers, printing processes, and special packaging.
From the very beginning, every Field Notes paper product has been manufactured in the U.S.A. From the paper, sourced from some of the finest mills in the Midwest, to even the inks used, the production of Field Notes has never required travel on a cargo ship or plane; just the roads crisscrossing the country.
SPECIFICATIONS:
01. 

Proudly printed by the good people of Service Graphics, Inc., Oakbrook Terrace, Ill.

02. 

Cover: French Construction 100#C "Blacktop," with a thick, brute force, 1-color application of "Stealth Gray" soy-based Toyo ink.

03. 

Innards: Finch Paper Opaque Smooth 50#T "Bright White," with a fine, 1-color application of "Double Knee Duck Canvas" light gray soy-based Toyo ink.

04. 

Cover printed on a Mitsubishi Diamond Series 40" 6-color printing press.

05. 

Innards printed on a Miller TP104 28" × 40" 2-color printing press.

06. 

Bound by a Heidelberg ST350 "Stitchmaster" 8-pocket saddle stitcher, with appreciation to Samuel Slocum, George W. McGill, and William J. Brown, the "Founding Fathers of the Staple."

07. 

Corners precisely rounded to ⅜" (9.5mm) by a CRC round-corner machine.

08. 

Dot-graph grid: 3/16" × 3/16" (4.7mm x 4.7mm).

09. 

Memo book dimensions are 3½" x 5½" (89mm x 140mm).

10. 

Field Notes uses only the Futura typeface family (Paul Renner, 1927) in its materials.

11. 

All Field Notes memo books are printed and manufactured in the U.S.A.

12. 

UPC 858493003165
Share
Materials

Full Grain Vegetable Tanned Leather
Dimensions

We have a variety of sizes. Check out our menus for the size you are looking for.
Care information

Your journal will come packed in a cotton bag which you can use to protect your cover from scratches and pen marks. We recommend conditioning it occasionally with Smith's Leather Balm, found in our Mercantile section.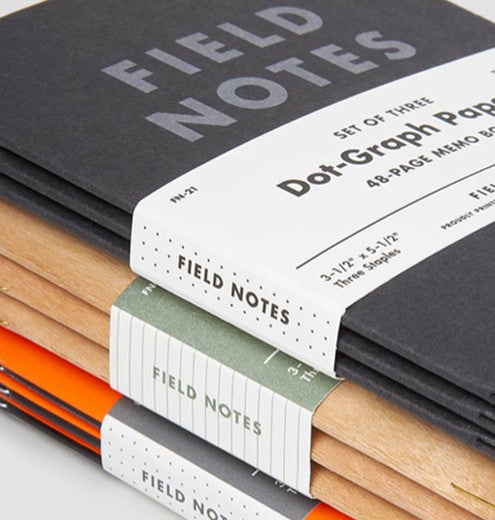 Custom Made
Click here to see the variety of small journals we offer. We can do custom covers as well.
Small Journals